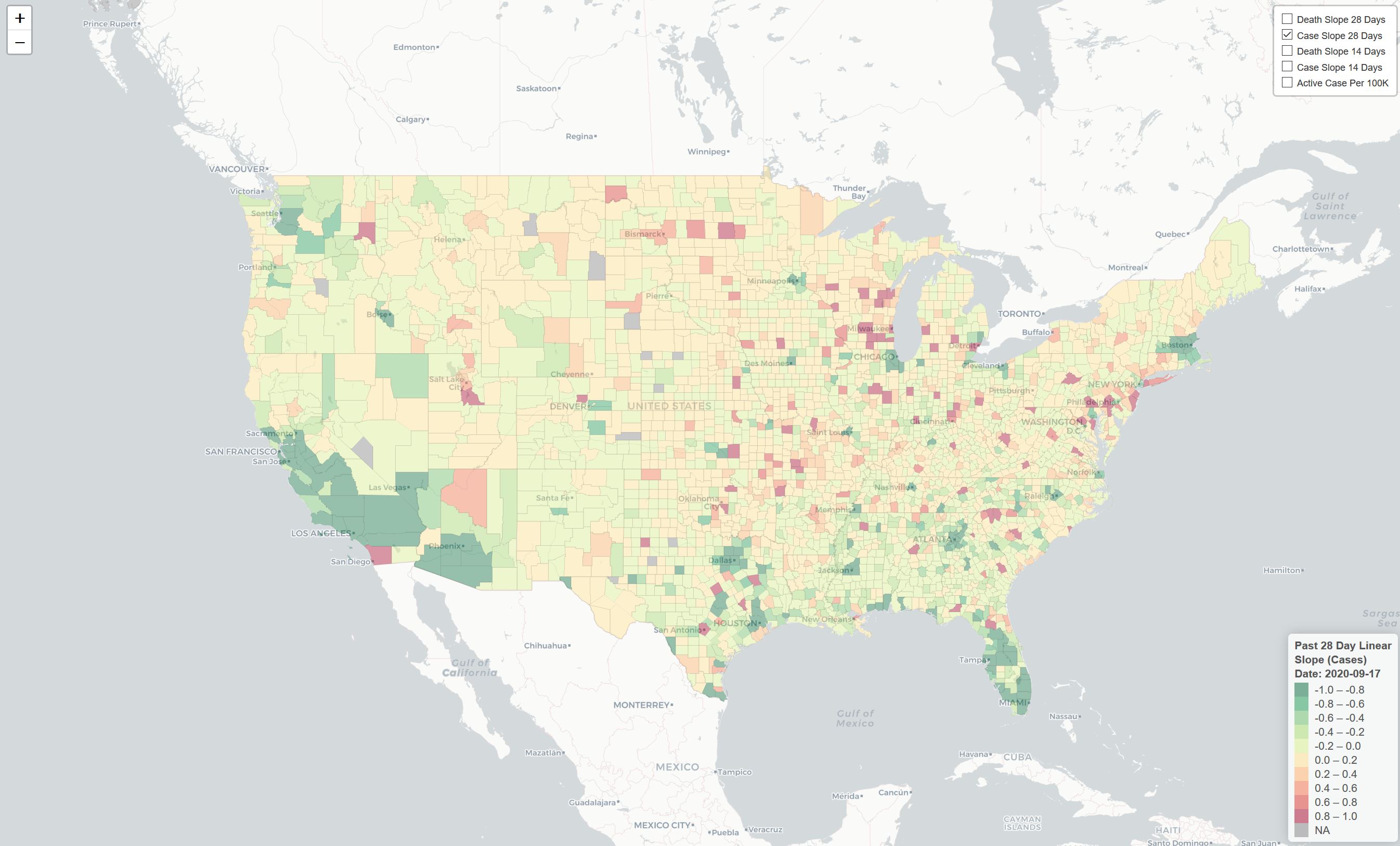 Why have I made these maps?
Many media outlets are showing only portions of the data or speaking about it with out full context of what is happening.

Example: Showing total numbers since March mean nothing about the current state of the virus spread

Large red dots on a map do nothing to show trends and do not include any context around population (Johns Hopkins Maps)
The spread of the virus needs to be analyzed in multiple ways to get a full picture of what is happening in the real world.
Looking a the data in multiple different ways helps one gain better understanding of the spread and severity in certain areas.
Since the CDC lowest level of granularity provided is at the county level, I've stuck with the county.
What are the maps?
5 Maps include (Selection Upper Right):
14 Day Linear Slope of new cases
28 Day Linear Slope of new cases
14 Day Linear Slope of new deaths
28 Day Linear Slope of new deaths
Presumed Active cases per 100K residents
Further explanation:
Linear Slope is meant to show the trend for the past 14 or 28 days.
This is the slope of the best fit line between the points of each.
The slope is built off 7 day
The dots in each graph are rolling 7 day averages.

Each dot includes the sum of the most recent day and the previous 6 divided by 7

Presumed Active Cases Per 100K

Sum of new cases in past 14 days / 2019 US Census Estimated population * 100,000
Contact
Please reach out via email if you think I should show things differently or if you have another idea about how to view the data on a map. There is a great deal I don't know and I'm always interested in sharing and learning more.
---